After our 2 hr delay, Thought we would repost this for those who migh have missed it in August. IMPORTANT Don't forget to add yourself to the Calamity Day Call/Text/Email list for upcoming school year 21-22. It is easy and takes just a minute. Just click the following link. You must subscribe every school year.
https://tec.woco-k12.org/tec/cpcl/rscommunity

The Riverside Boys Basketball team used their hands and feet for other skills tonight while serving our community at Fives Loaves Food Pantry. Thank you for your service, young men!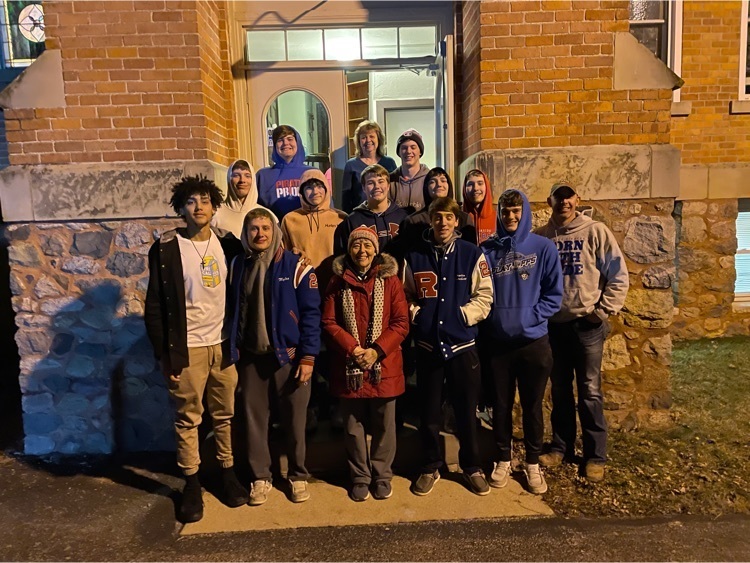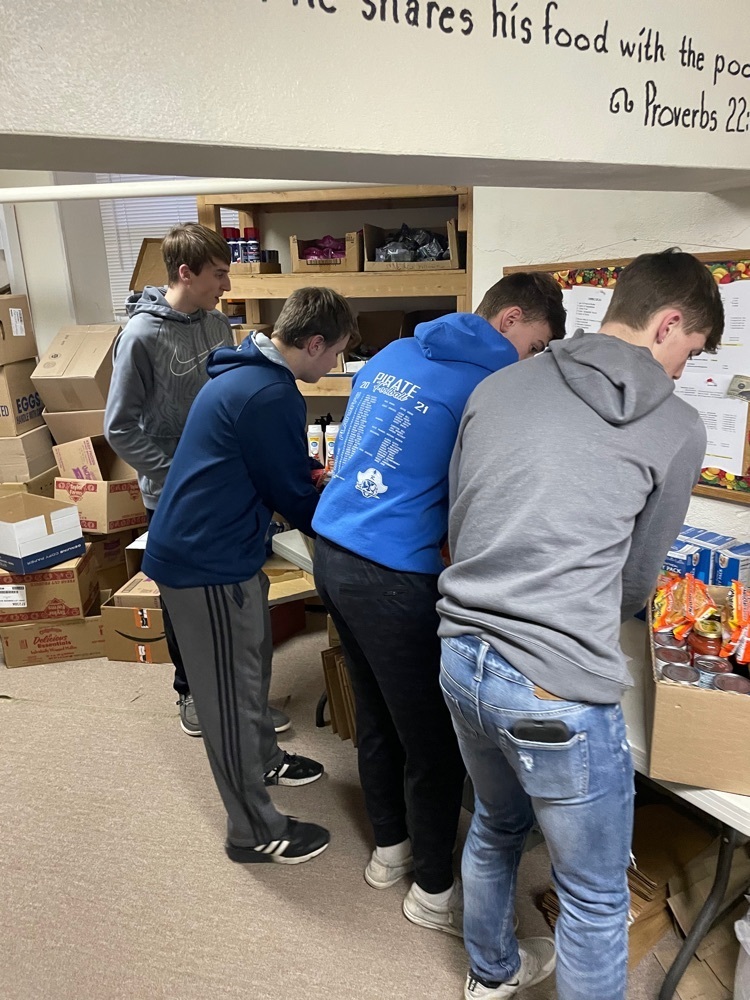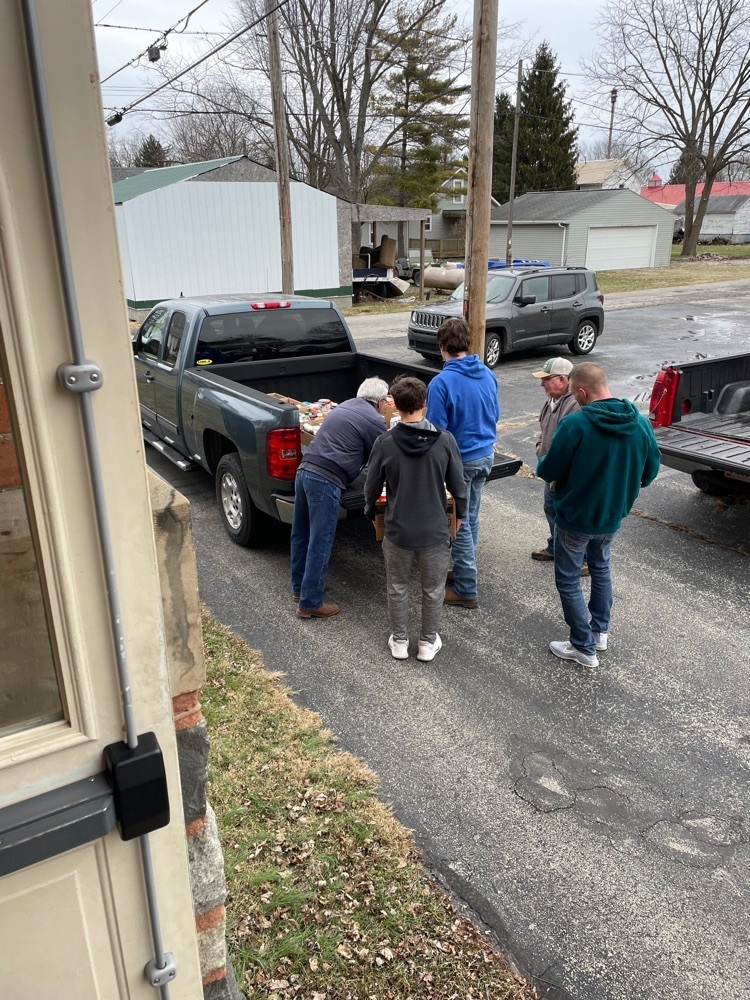 Go out and support our Jr After Prom tonight with supper at Iron City! You can order online if you just want to pick something up!!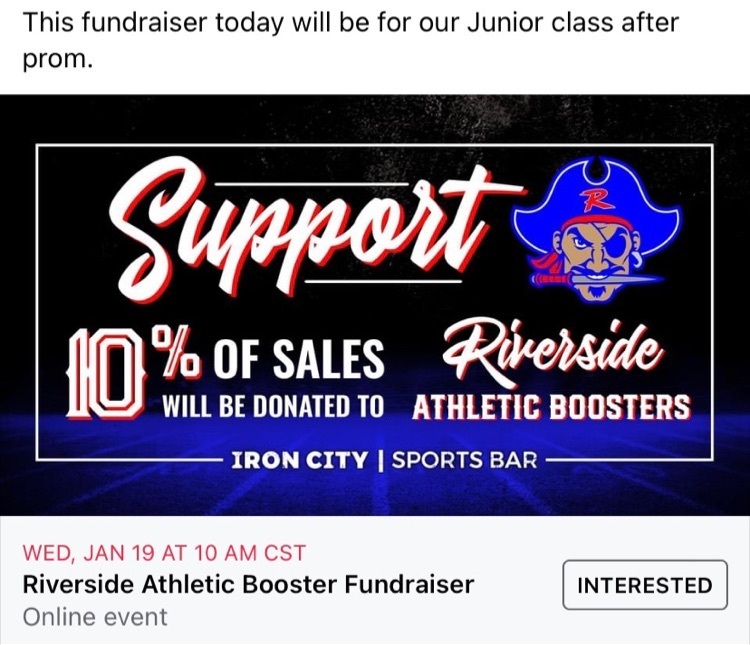 Congratulations to the January Seniors of the Month, Grace Brownlee and Benjamin Carey!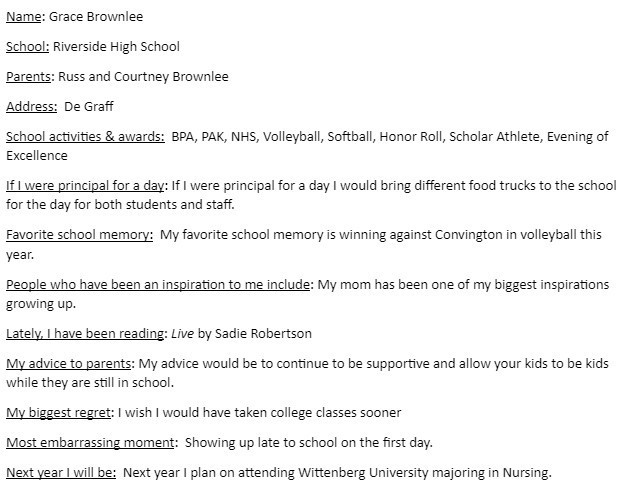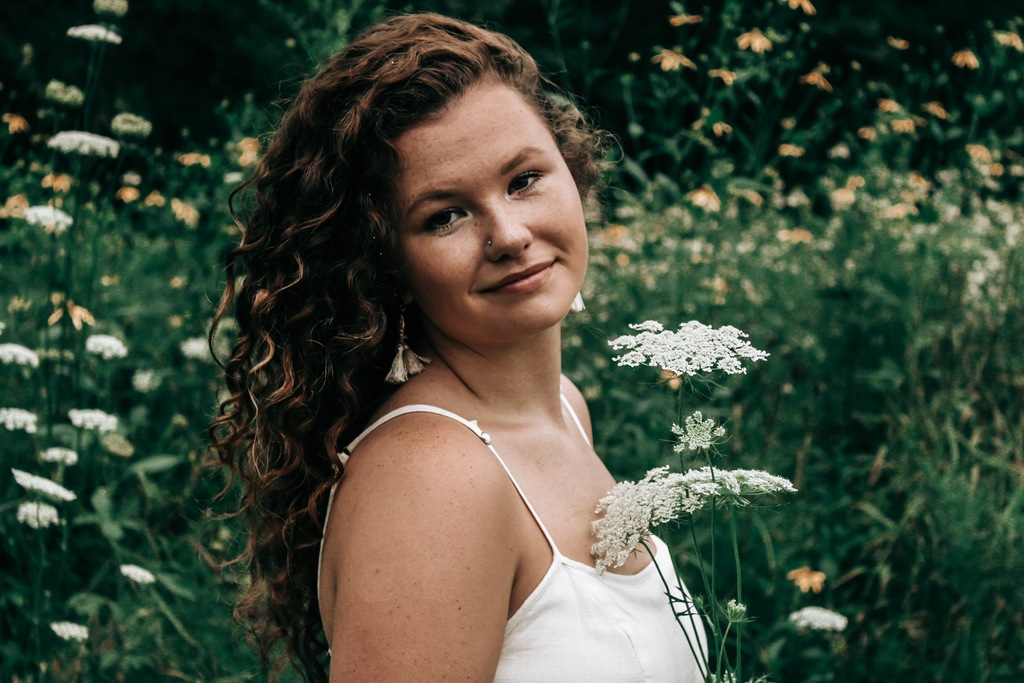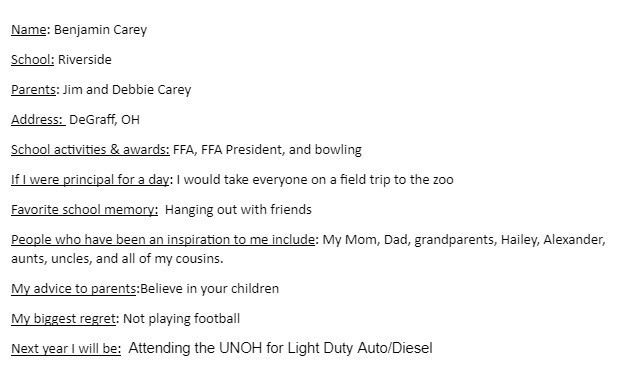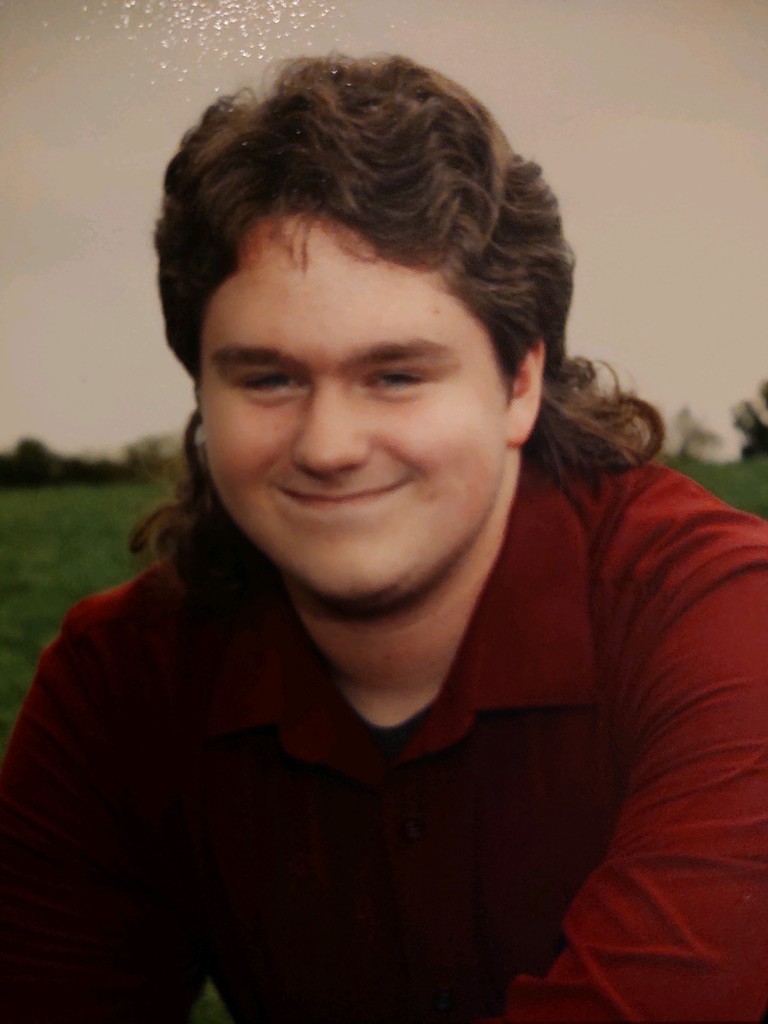 Riverside National Honors Society will be hosting a blood drive on Thursday Jan. 27th from 8am to 2pm. If you would like to donate, please contact Andy Phelps
aphelps@rlspirates.org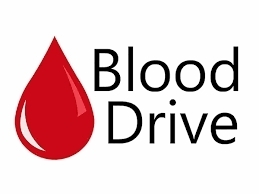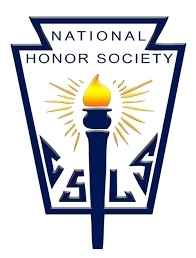 Attention Jr Parents! The next after prom meeting is scheduled for Wednesday, 1/26/22, at 6:30pm in the auditeria. Don't forget! Your help is needed!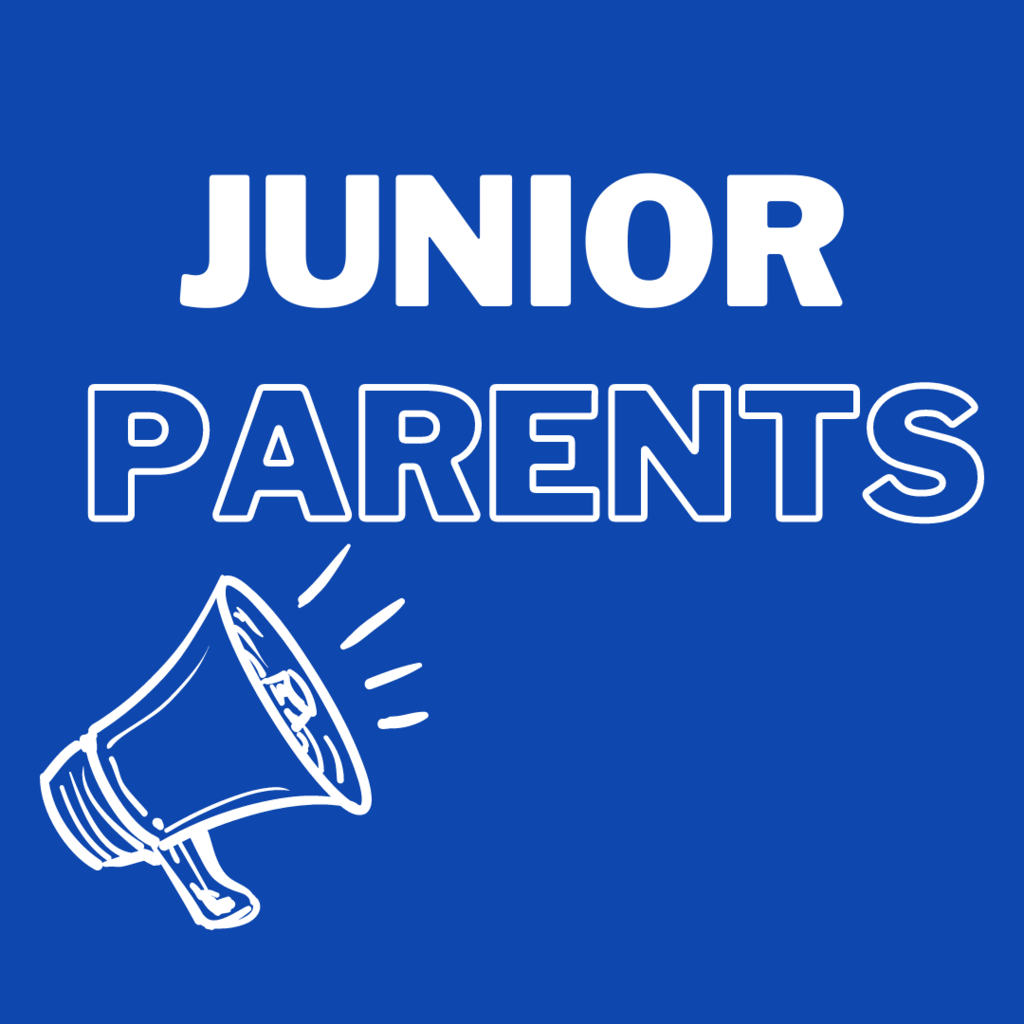 Riverside H.S. Boys' Basketball: The Freshmen, JV, and Varsity boys' basketball games scheduled at Northridge on Friday, January 21 have been cancelled by Northridge due to Covid issues on their team. The games will be rescheduled at a later date.

Tuesday, 1/18/22, Riverside will be closed.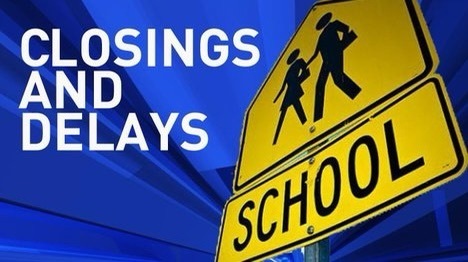 Coaches vs. Cancer The Covington Athletic Department will be holding their annual Coaches vs. Cancer event again this year. It will take place at the high school girls basketball game vs. Riverside on January 27th, .and the high school boys basketball game vs. Milton-Union on January 28th. This year Covington has chosen lime green shirts to support one of our 3rd grade students who is currently battling Non-Hodgkin's Lymphoma. Covington will also be holding a raffle at both high school games for a chance to win various items. Some of the possible prizes are a 72" Linear Electric Fireplace, a 71 piece Craftsman tool set, Cincinnati Reds Tickets, two weekly badges to The Memorial Golf Tournament in Columbus, two $50 gift cards to Boscoe's Place in Covington, two $50 gift cards to 3 Joe's in Piqua, $50 gift card to Top Golf, a mini-fridge that plugs into your car, $200 in gift certificates to Los Pitayos, and many more to come! They will be selling the raffle tickets at the games, and you will be able to put your tickets into win whichever item you would like. We will draw the winners at the end of the 3rd quarter of the varsity boys basketball game vs. Milton-Union. We will make sure to have names and phone numbers on the tickets in case the winner is not present. Tickets will be $5 each or $20 for 5 tickets.
The junior class will be selling carnations for after prom. Carnations are $3 each and will be sold during JH and HS lunch beginning January 18th through January 28th. Carnations will be delivered on Valentine's Day.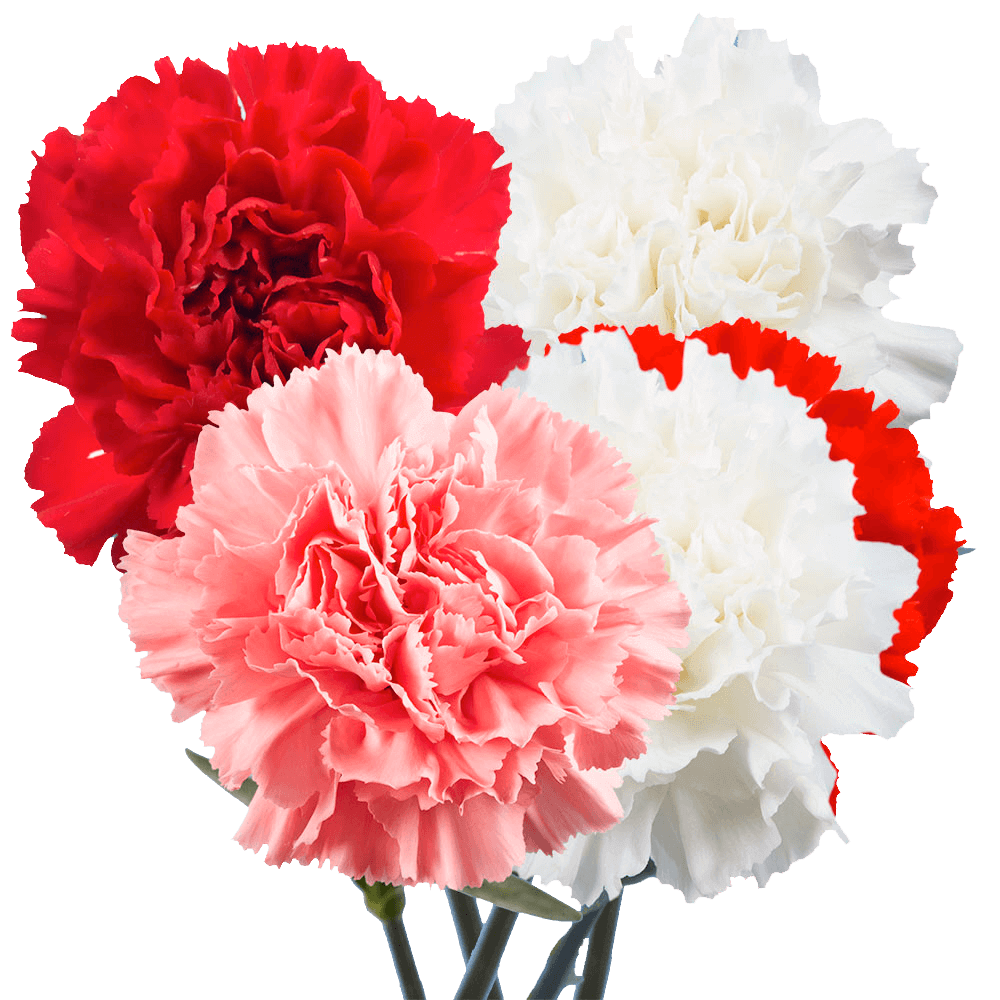 Attention Little Pirates Boy Basketball: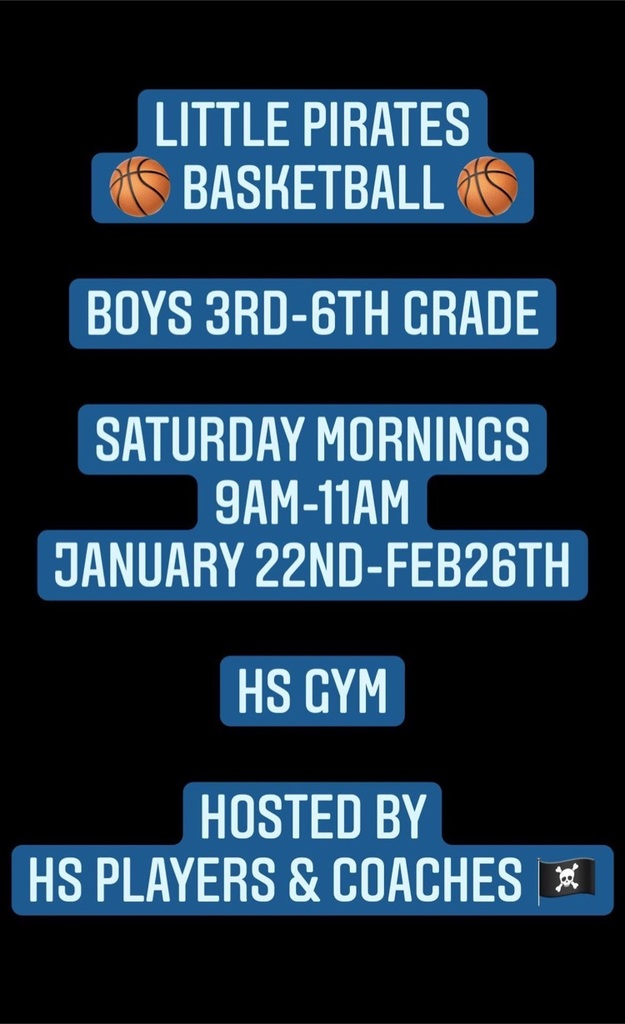 Riverside JH Boys Basketball: The JH boys' basketball games at Troy Christian on Saturday, January 15 have been postponed due to Covid issues at TC. The games have been rescheduled to Monday, February 7 at 5:30 p.m.
H.S. Girls' Basketball: At the request of Lehman Catholic, Thursday, January 20, 2022, will be a varsity girls' basketball game only. The varsity game will start at 5:30 p.m.
Riverside Local Schools has 2 immediate openings for full time school bus drivers. We will consider candidates with current certifications or those needing training. Contact Jason Bell, Operations Manager at 937-585-5981 x3300 or at jcbell@rlspirates if interested.
The Freshmen/JV//Varsity boys are playing at Bethel on Friday, January 14. Bethel H.S. is hosting Military Night that night. Anyone currently serving in the military and our military veterans will be admitted free to the game.

Father/Daughter Mother/Son Dance Registration Forms. Dates of Dances: Father/Daughter - March 12, 2022 (forms due 2/1/22) Mother/Son - May 7th , 2022 (forms due 3/25/22) click here for forms:
https://5il.co/141wk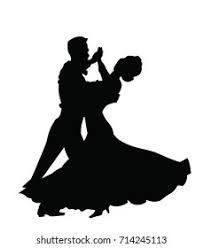 Title I Math and Reading Newsletter for January 2022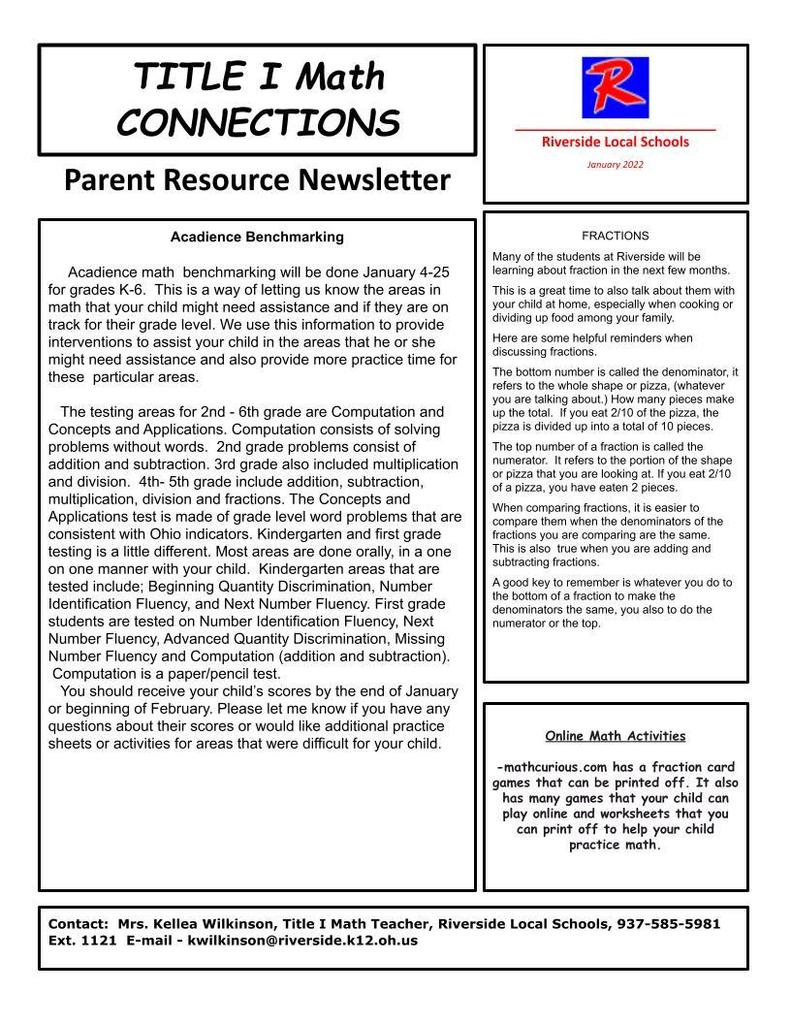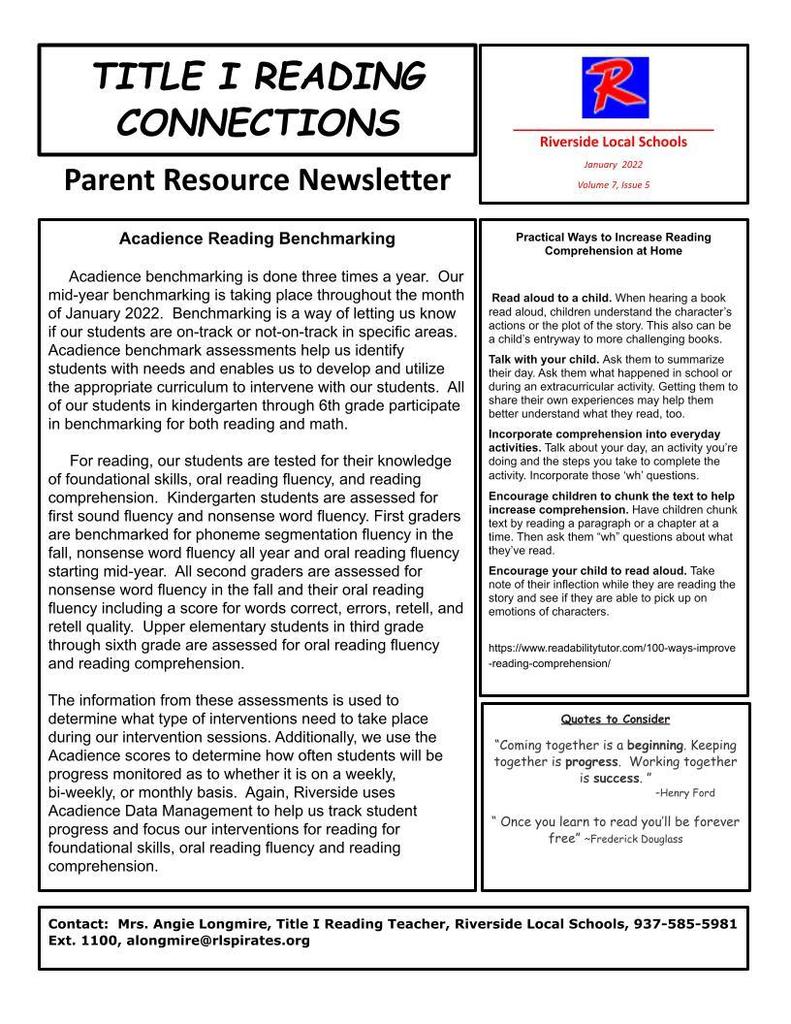 ATTENTION PARENTS OF 6TH AND 7TH GRADERS! Next year your child will have the chance to go to Washington DC in November of 2022. Papers were handed out today and the first meeting to get all information is Weds Jan 12th at 6:30 in the school audeteria.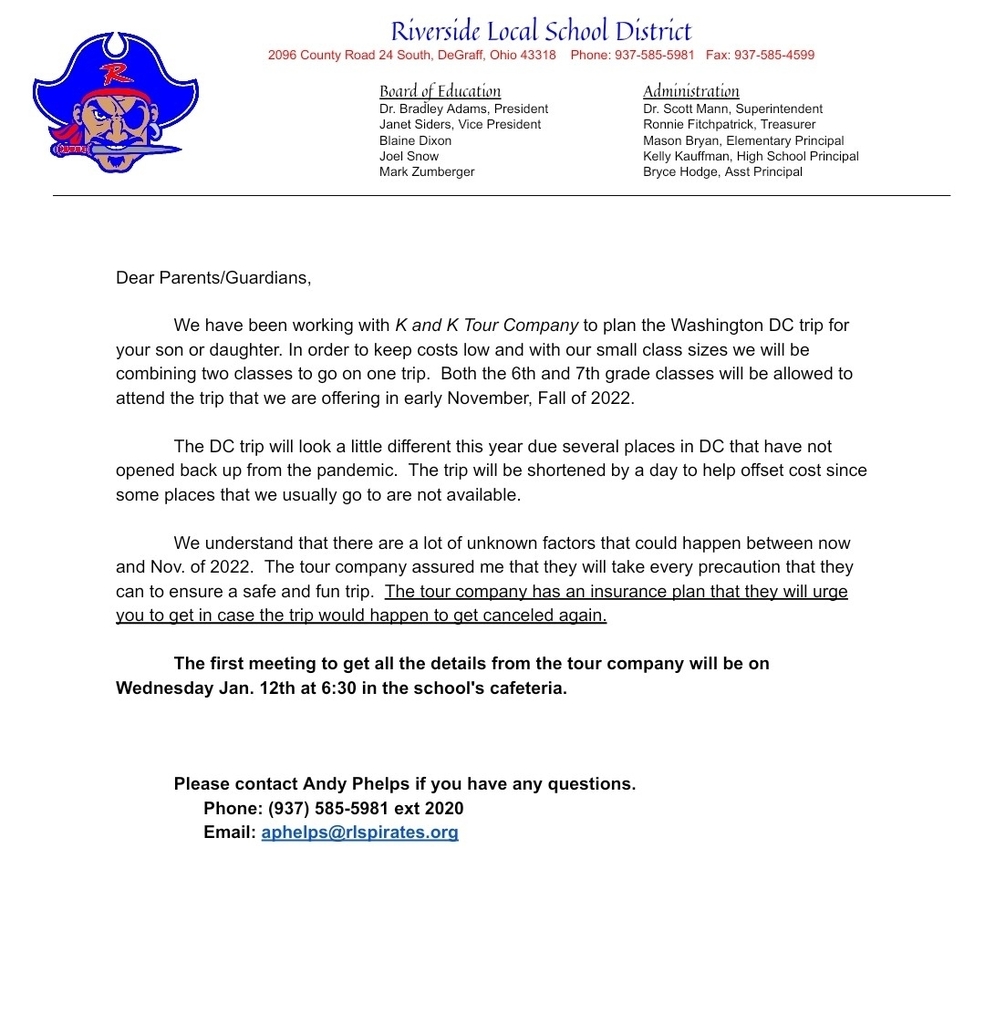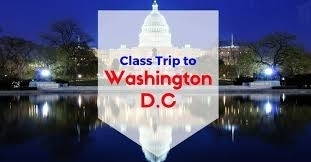 Reminder: Cheer Camp signups are due Friday, 1/07/22.