Riverside Local Schools is operating on a 2 hour delay Tuesday, 10/05/21. This means no AM preschool.

Riverside Local schools are on a 2hr delay for 10/5/2021

Ship's Log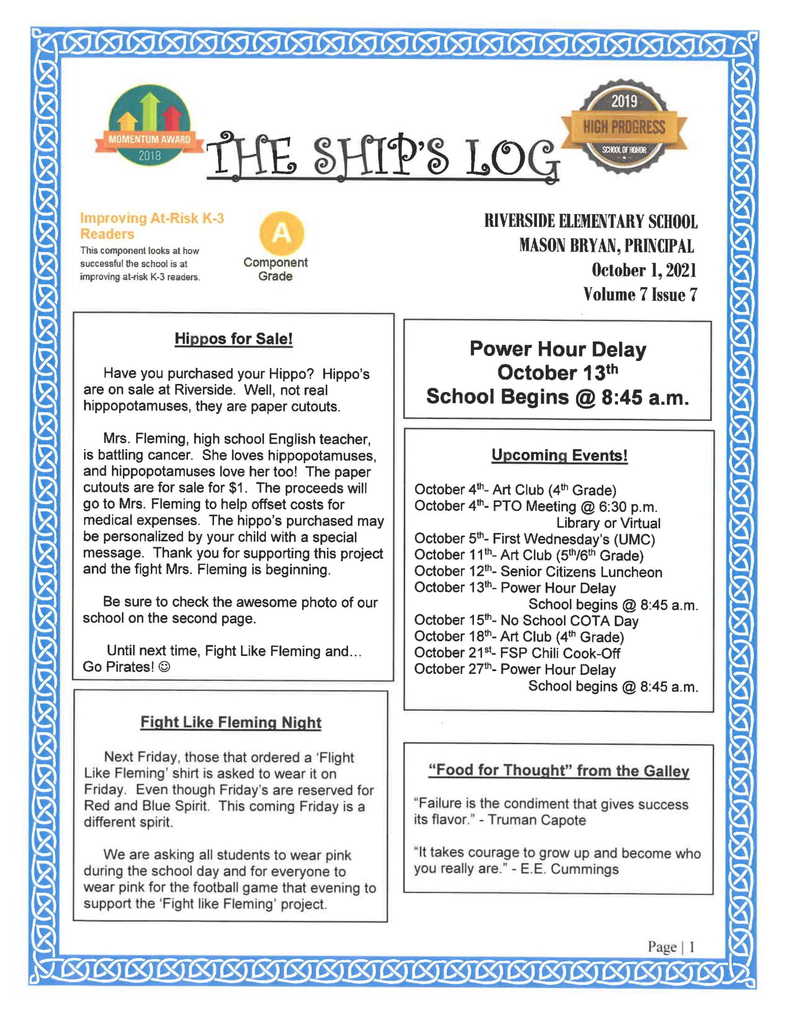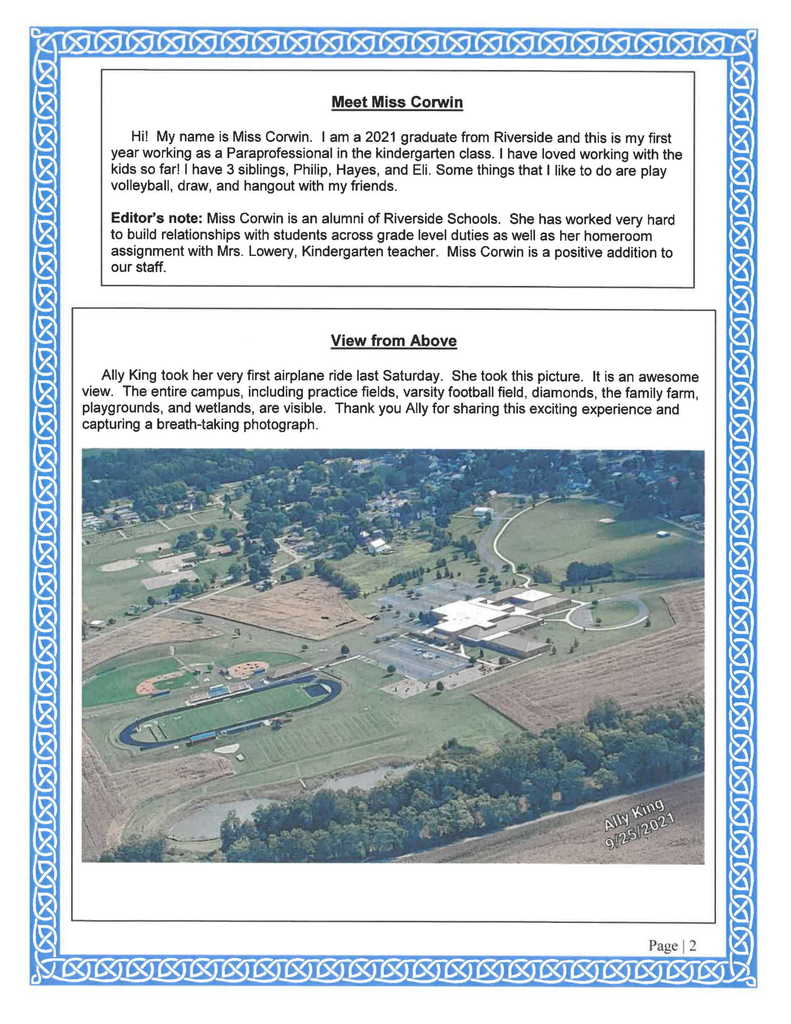 ScoresBroadcast.com (phone, computers, tablets) will cover the Riverside football game on Friday night at 6:25 PM. Coach Hodge is interviewed in the pre-game segment. Via a simulcast, 105.5 FM also provides the coverage. ScoresBroadcast Inc.
The Riverside Pirates picked up a 31-0 league win over Troy Christian tonight! It was a total team effort, the offense had 311 yards, and the defense held TC to just 109 total yards. Some individual highlights from the team win: Warren Shockey 32 carries, 124 yards, and 4 TDs, 3 tackles, 1 PBU Myles Platfoot 5-10 passing, 118 yards, 9 carries, 63 yards Landon Stewart- 4 catches, 101 yards Deven Frilling- 1 rush 3 yards, 1 catch 17 yards, 4 tackles, 1 interception Skyler Hudson- 7 tackles, 1 TFL Braden Brandyberry- 7 tackles Andrew Thacker- 7 tackles, 1 sack, 1 fumble recovery Simon Godwin- 6 tackles, 1 PBU Dylan Smith- 6 tackles Kaleb Schindewolf- 4 tackles, 1 TFL Walker Whitaker- 1 fumble recovery for 41 yards. Isaac Bender- 4-4 PATs, and a 27 yard FG The Pirates improve to 4-2 (2-1) on the season, we play Lehman next Friday @ Sidney Memorial Stadium! #PiratePride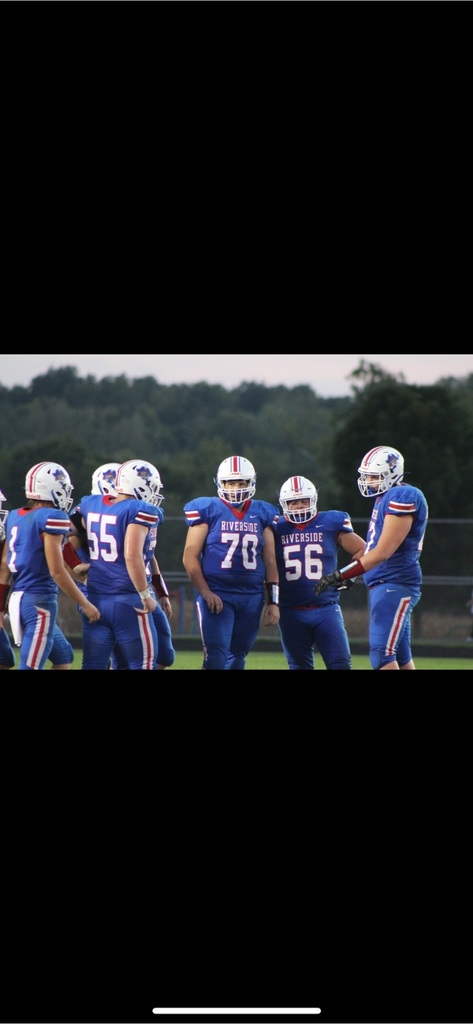 The Ship's Log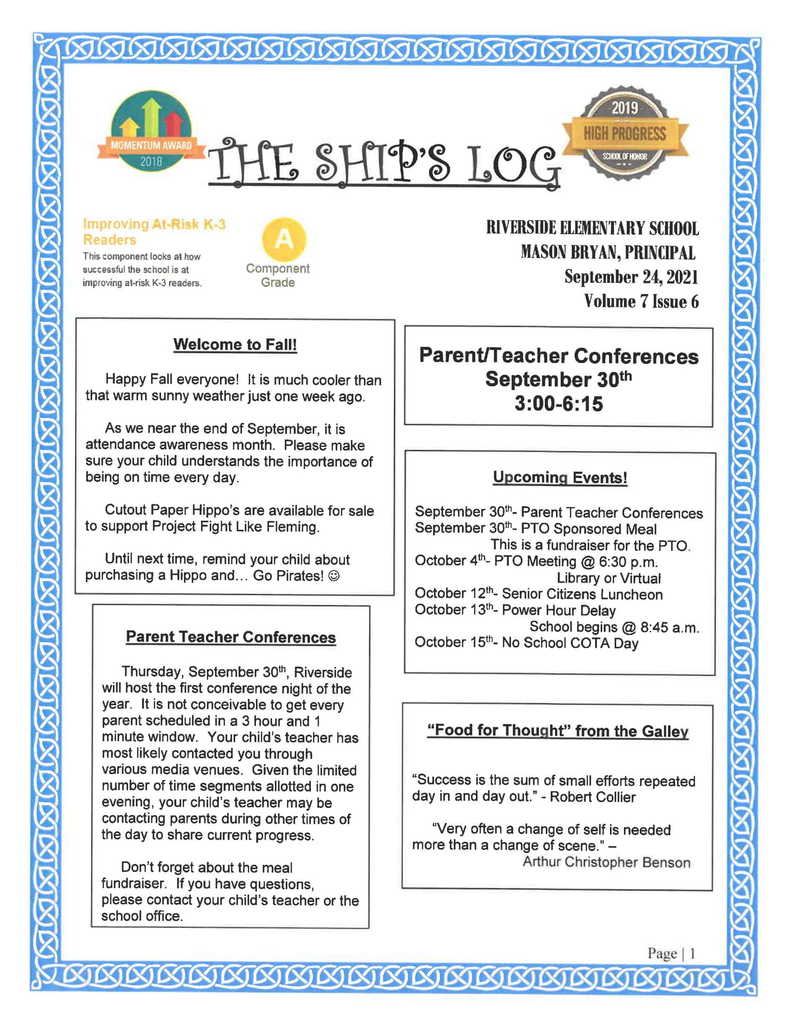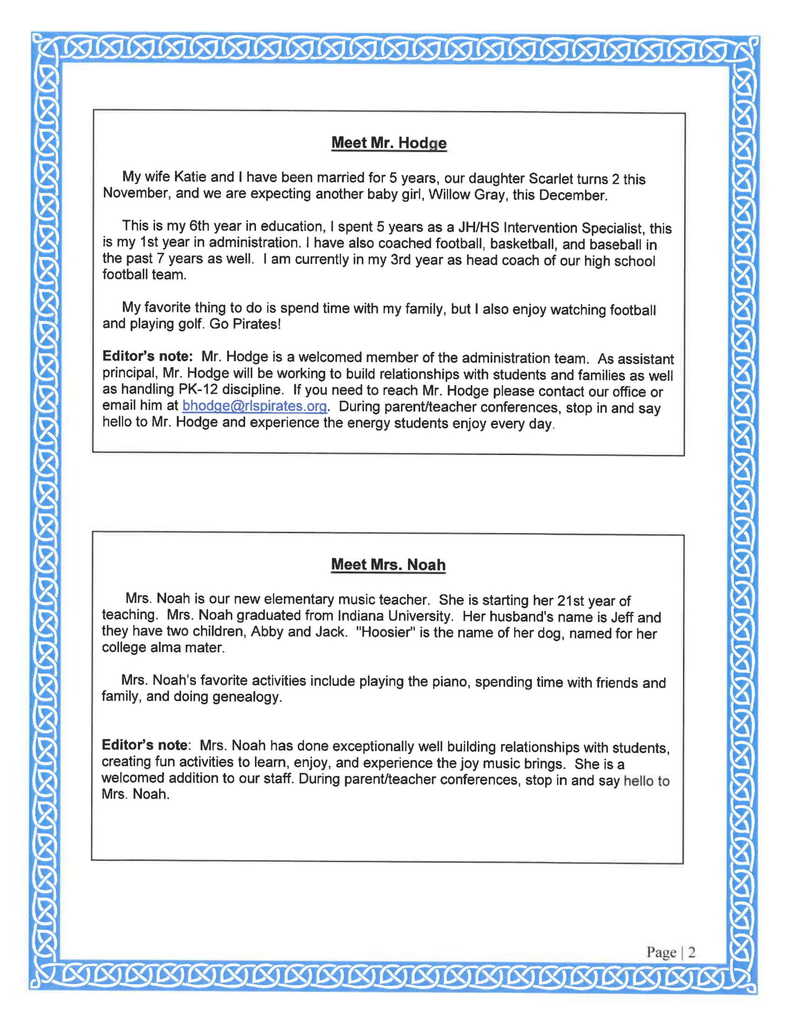 The Riverside Lady Pirates competed in the TRC league tournament at Shelby Oaks Golf Course. After the regular season and tournament , the Lady Pirates finished tied for 2nd place in the league. Jayden Burchett, Roz Estep, and Mia Stallard all earned 1st team all-league honors.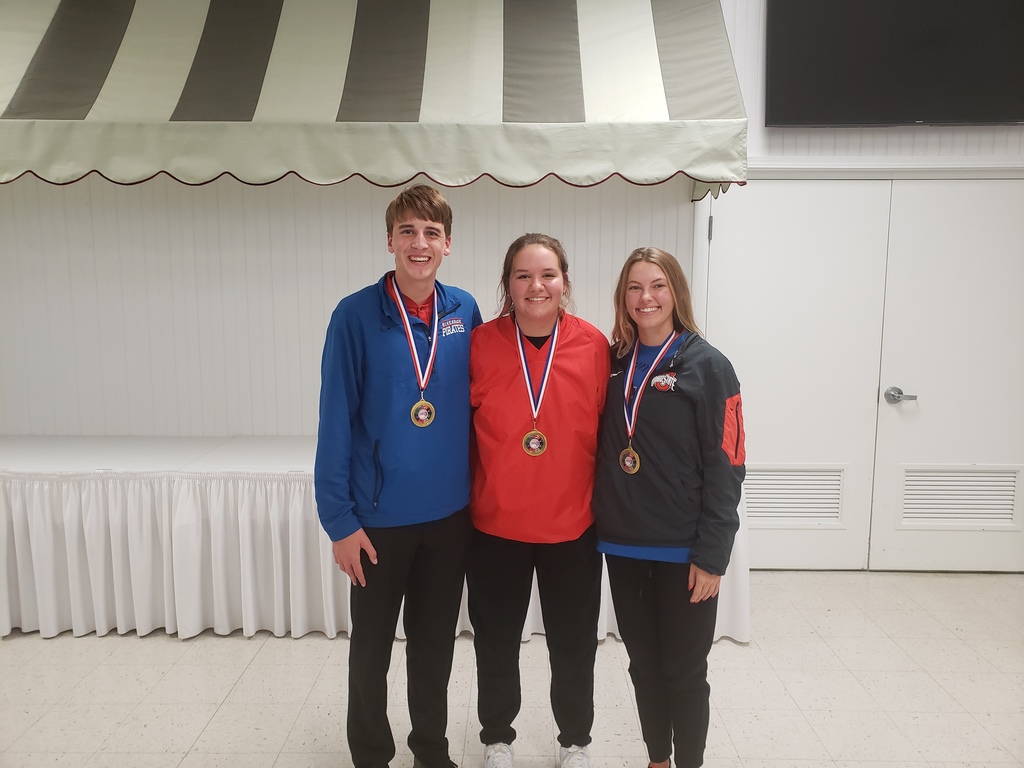 Such creativity happening in the high school ELA classes! The Juniors are acting out the play The Crucible, the Sophomores are finishing up a unit on knights and heros, and the Freshman created skits to relate 3 different short stories.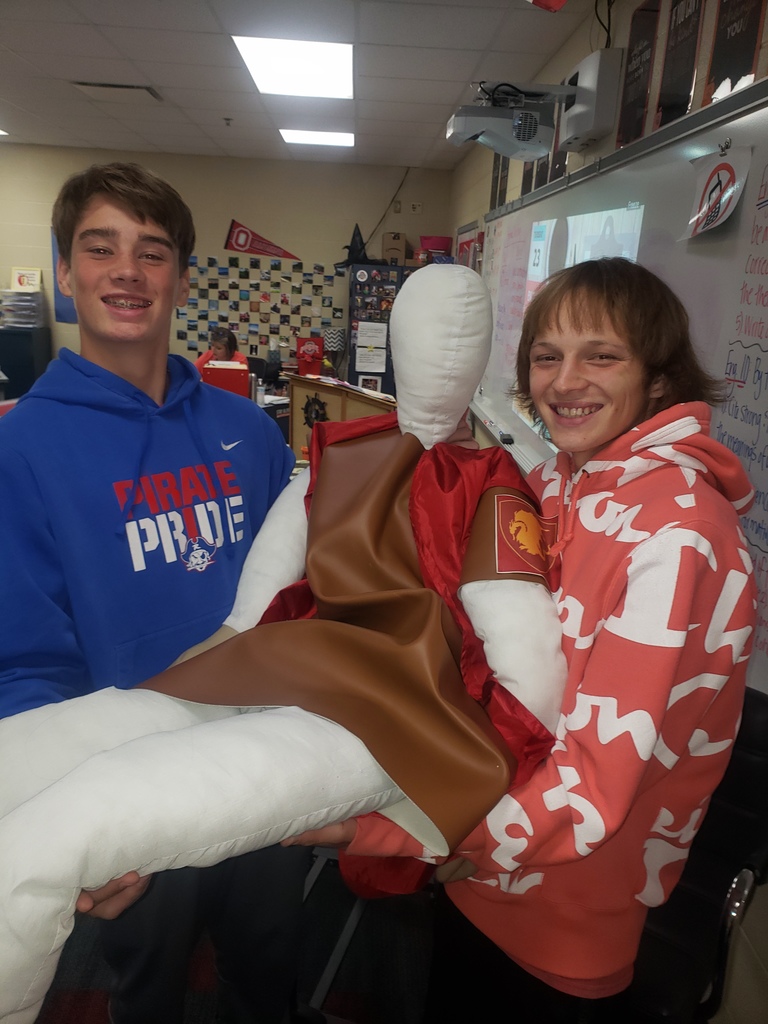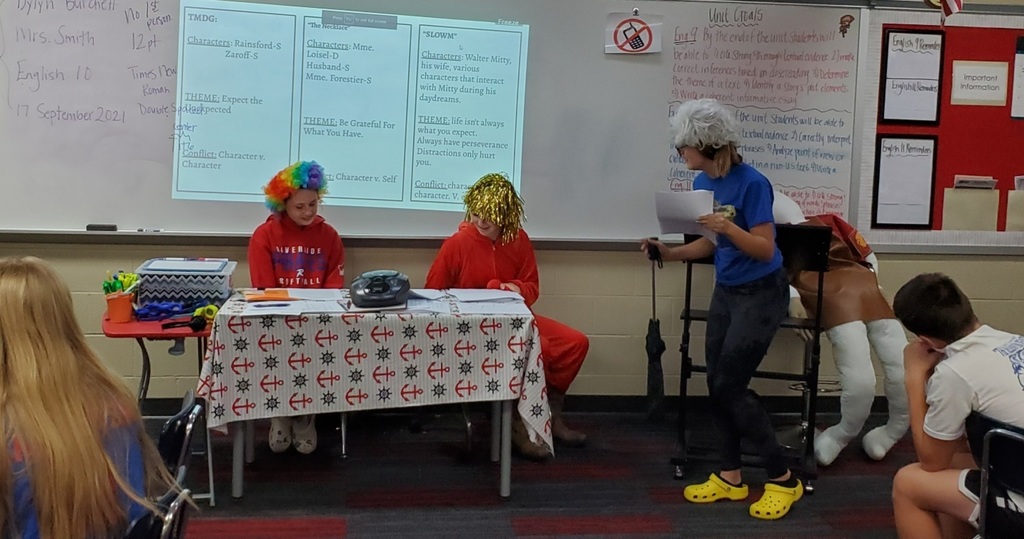 Winners of the classroom door decorating contest for spirit week were Mrs. Jenkins and Mrs. Monroe along with their Sophomore students: Jim Trout, Reece Jenkins. Jamie Kaeck, Michael Shockey, and Dylan Cooper. Their theme focused on Homecoming dances of the past, and the doors were judged by the 2021 Homecoming court. They will receive a pizza party!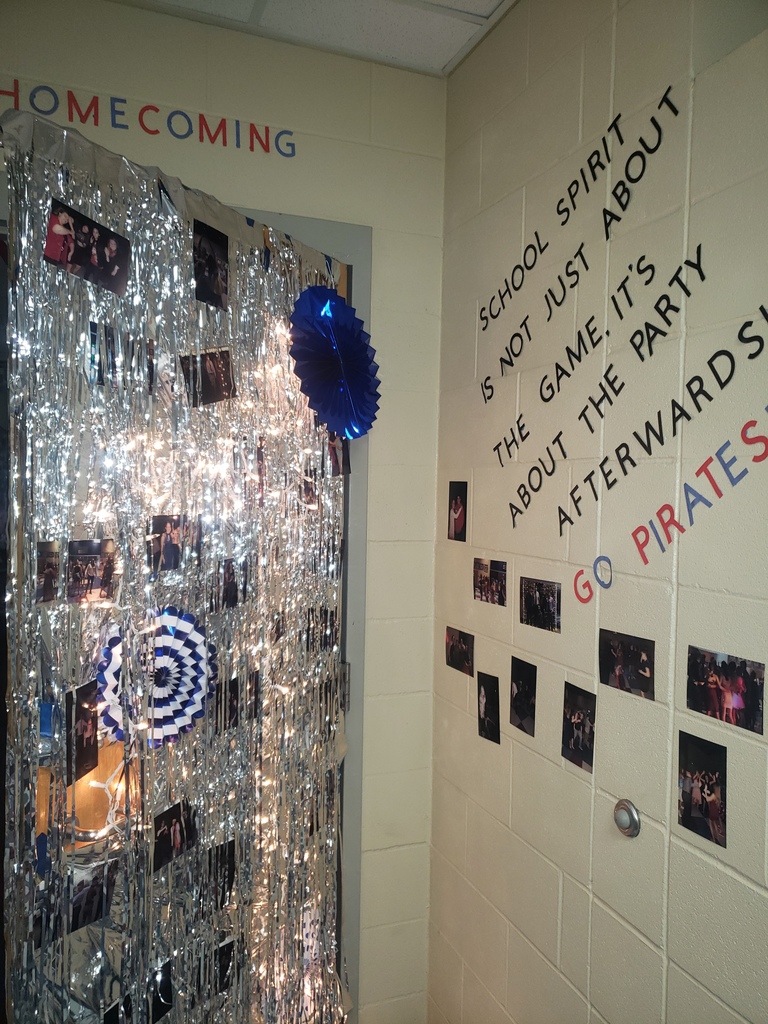 Riverside Boys Golf team shot there best round of the year with a 164. Riverside defeated Urbana and Calvary. Brody Rhoads and Jaxon Woods each shot there personal best and earned Co-medalist with 37's. The team finished the season 25-11 overall and 12-2 in league play.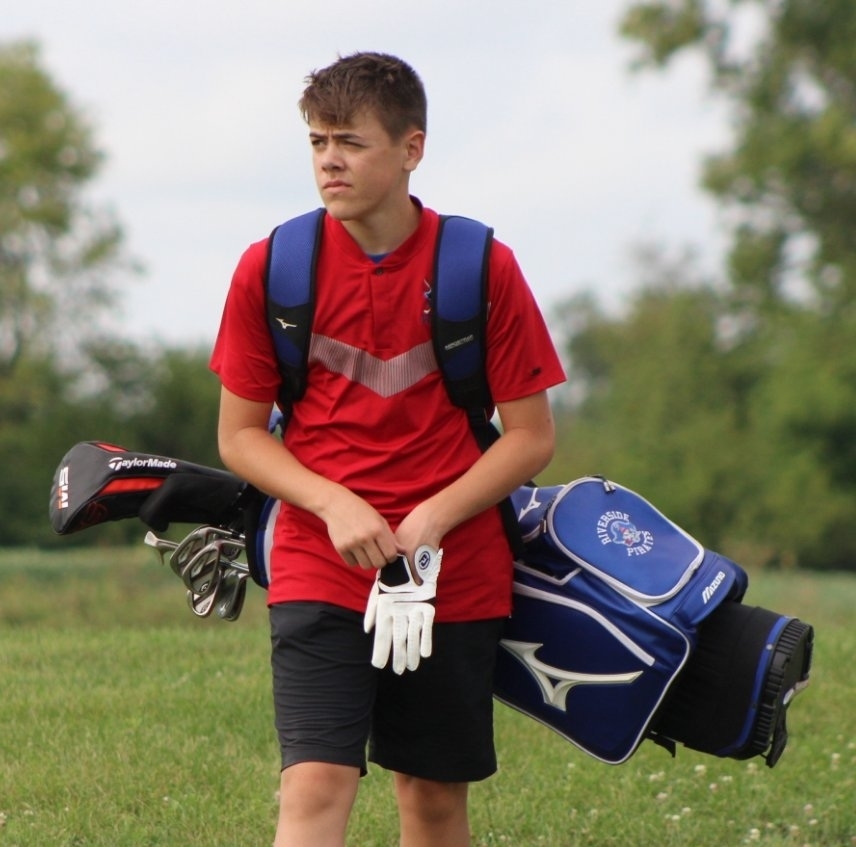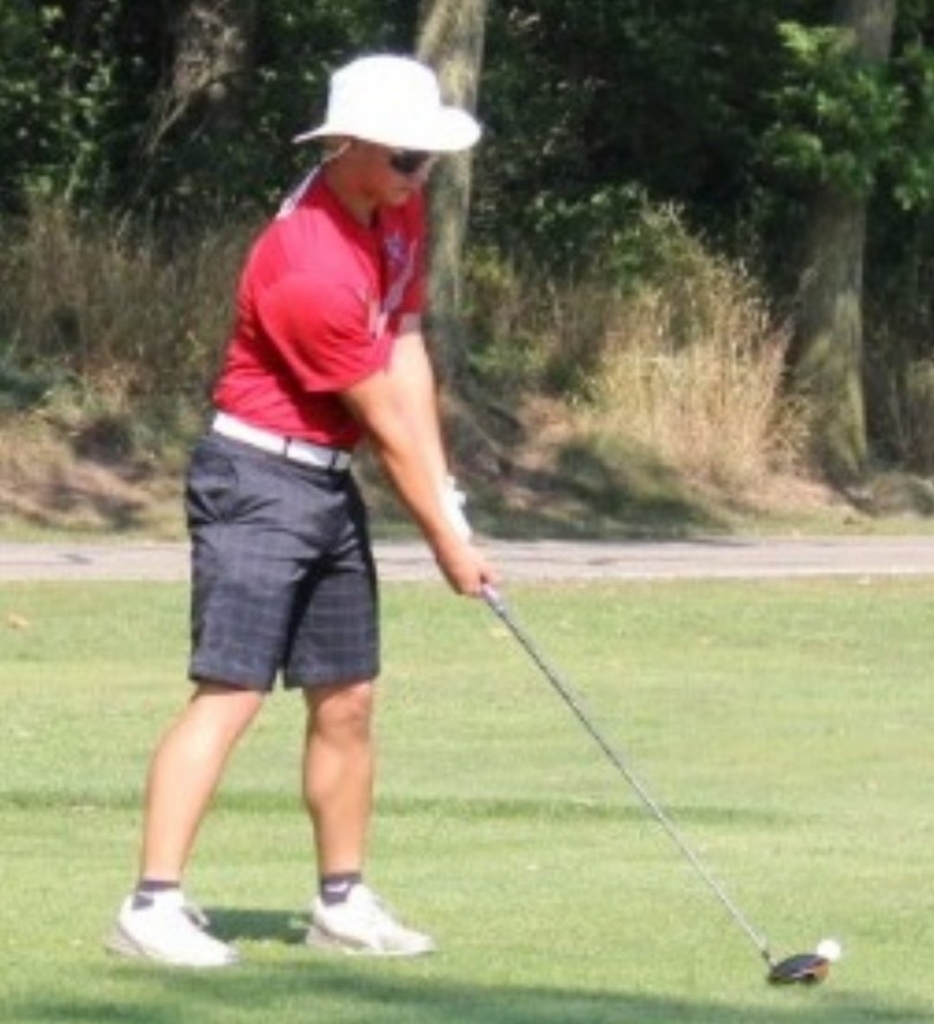 Congratulations to the September Seniors of the Month, Allison Buchenroth and Chase Davidson!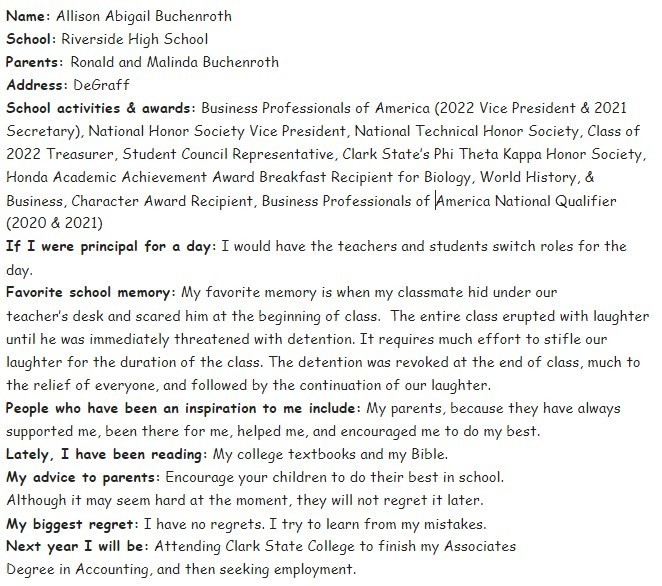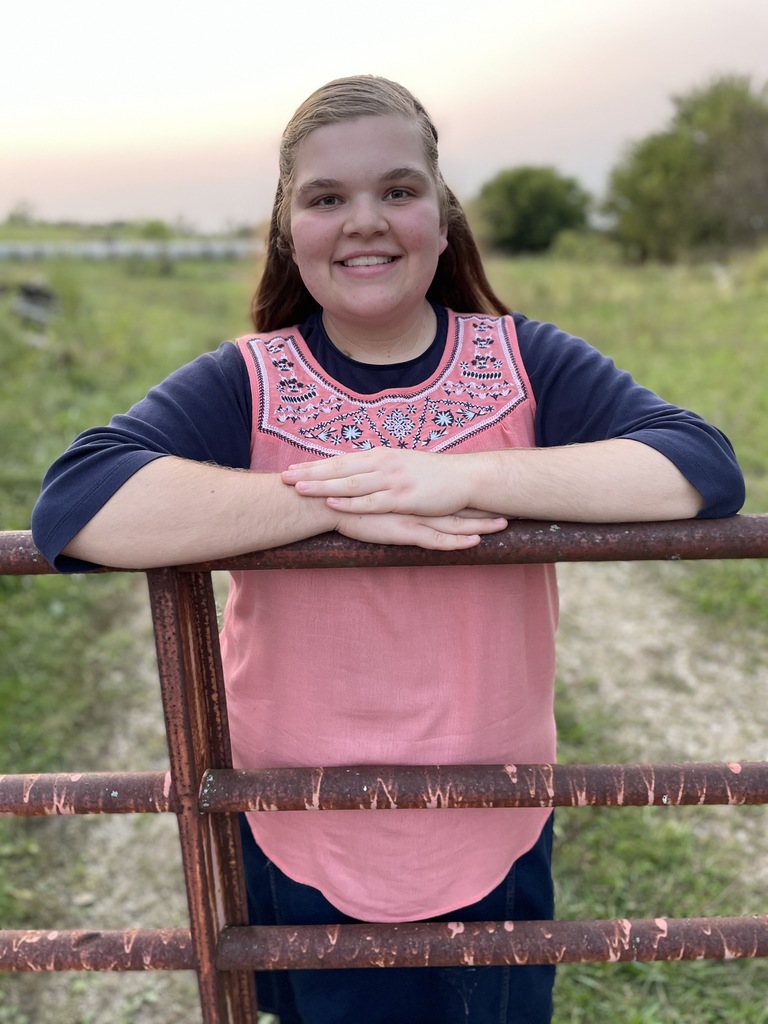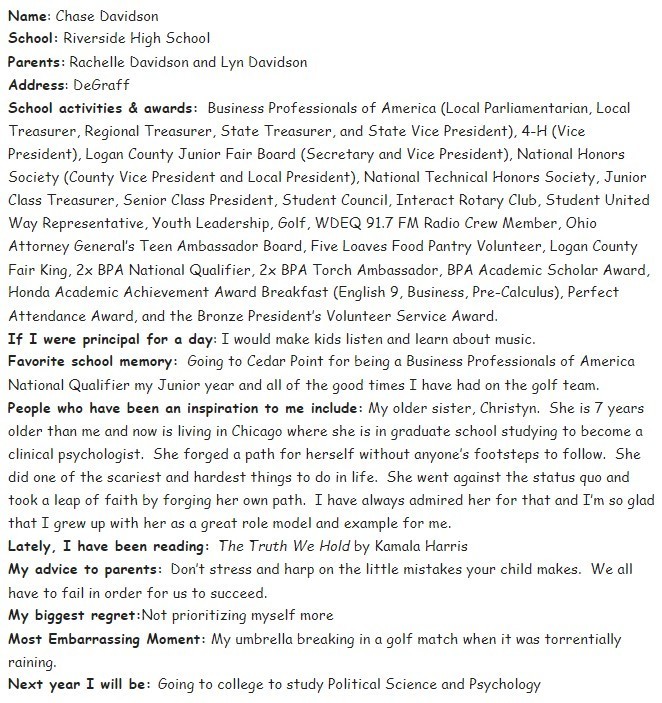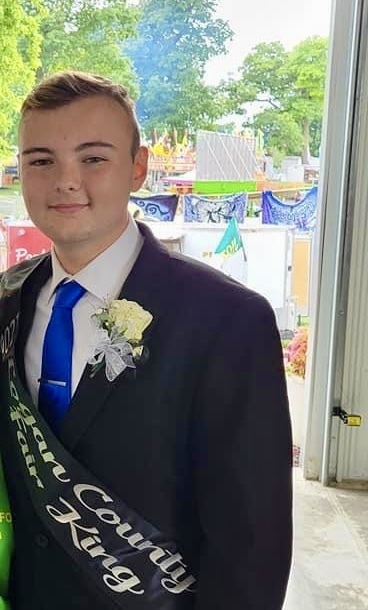 Athletic events for the week of 9/20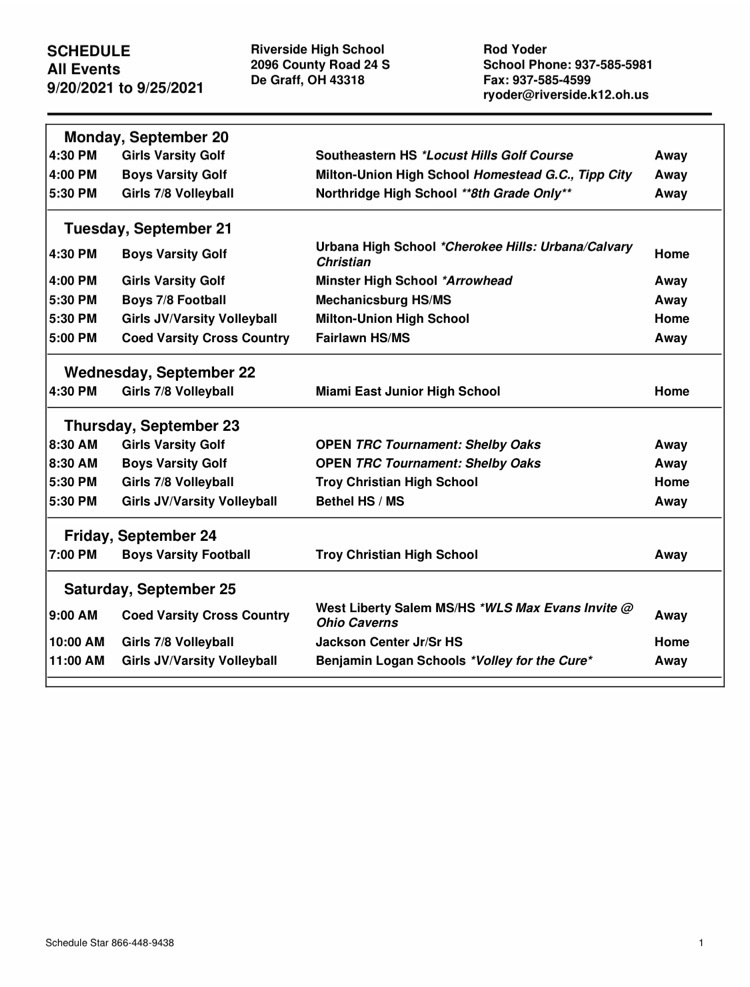 Congratulations Kirsten!!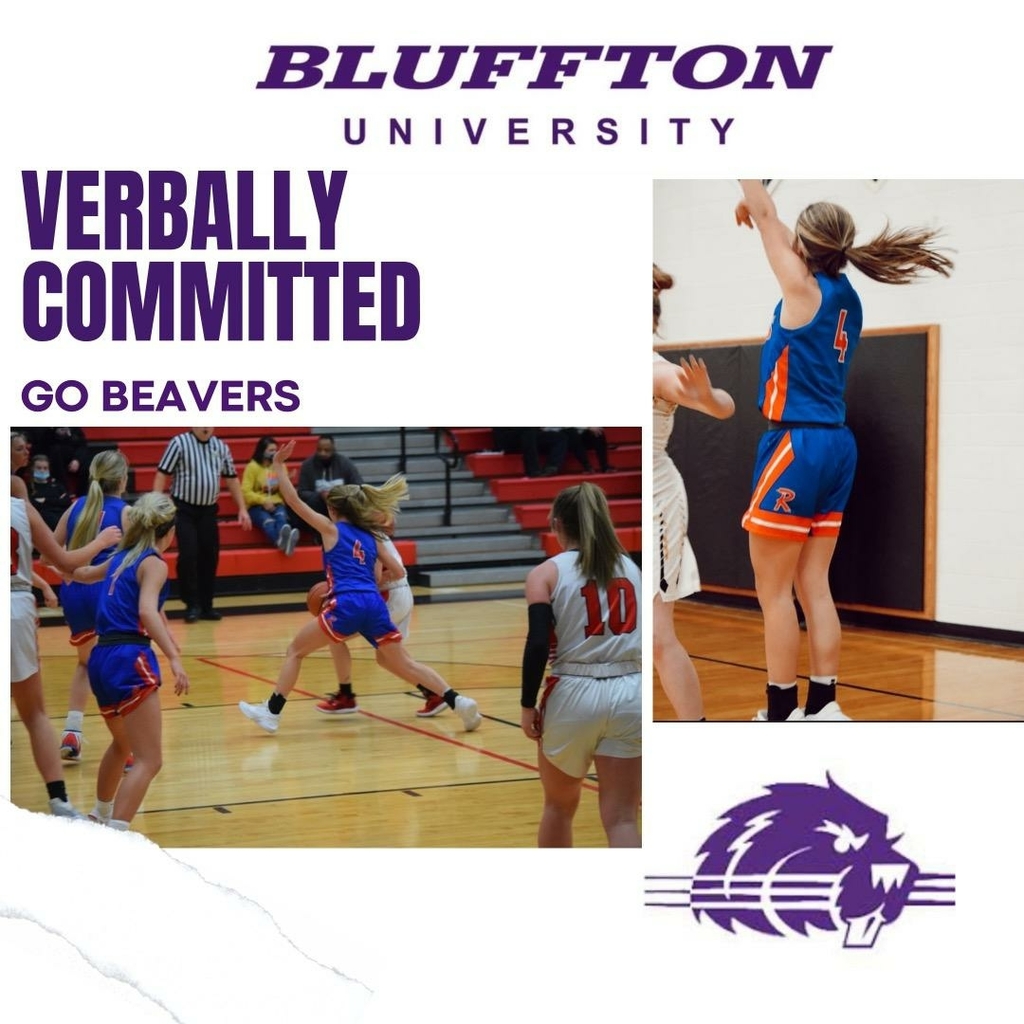 RIVERSIDE HIGH SCHOOL Event Code: FE160921 Secure access code distributed by school YOUR PHOTOS ARE READY! Good news! JostensPIX was recently at your school to photograph picture day, and your student's photos are now available for viewing and ordering! Click on the button below to get started. VIEW AND ORDER PHOTOS HERE
https://shop.jostenspix.com
PHOTOS NOT APPEARING IN YOUR GALLERY? FIND YOUR STUDENT USING EVENT CODE: FE160921 DID YOU KNOW? You can personalize your photos with a variety of backgrounds and text Photos are shipped directly to your home High-res digital downloads are available If you have more than one child, you can order together and pay once.


Don't miss tonight's HOCO ceremony! The festivities begin at 6pm. 🤴🏼👸🏼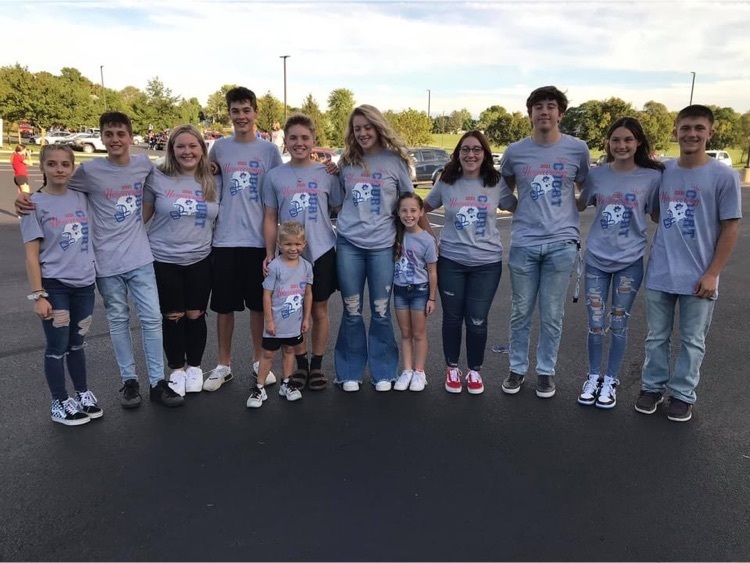 Check out this weeks Ship's Log!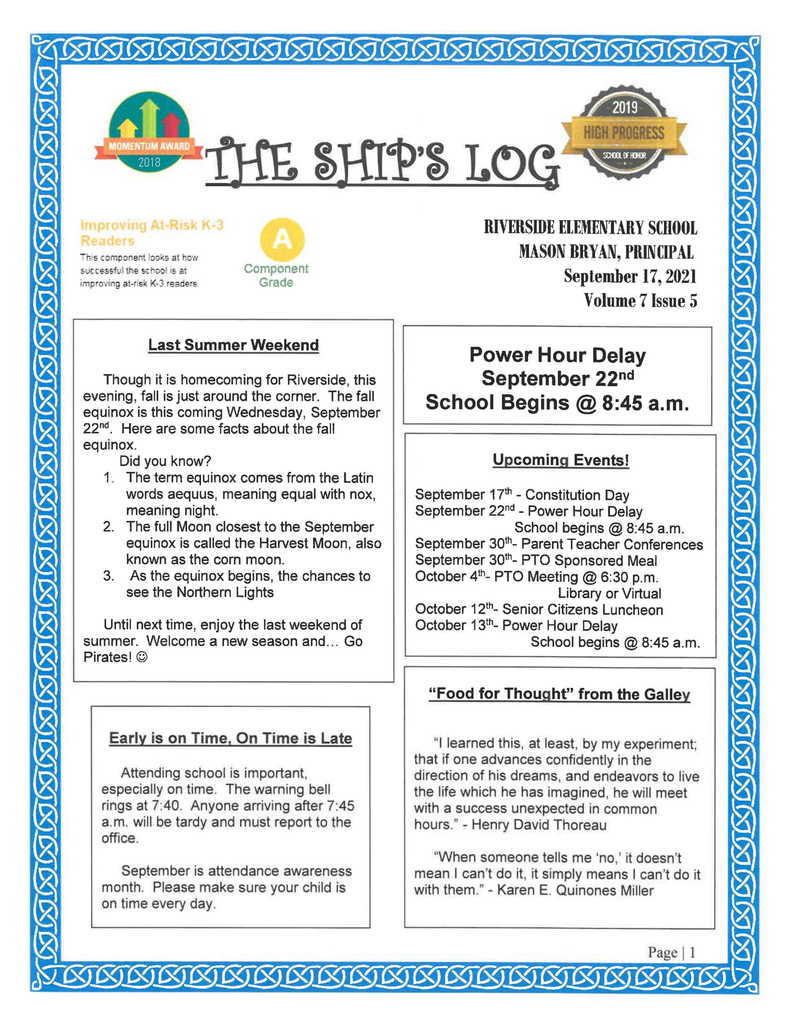 The Lady Pirates golf team beat Anna in their last home match 209 to 215. Roz Estep shot a career low 42! The win tonight has pushed the girls to 20 wins on the season.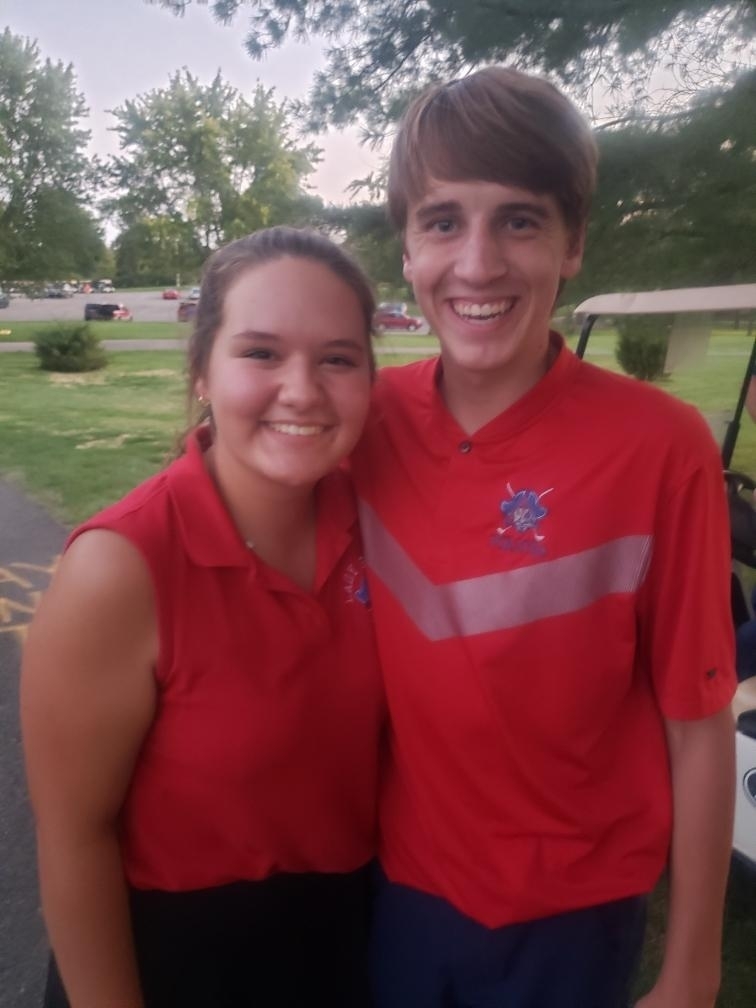 JH Volleyball, Monday, September 20, 5:30 p.m. at Northridge. This will only be an 8th grade match now. Northridge will not have enough players for both games.

Congrats to our Pirate Golfers ! Keep swinging! #piradeproud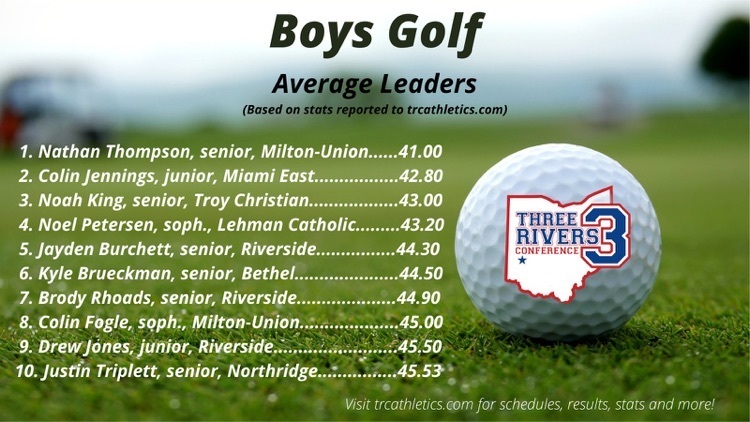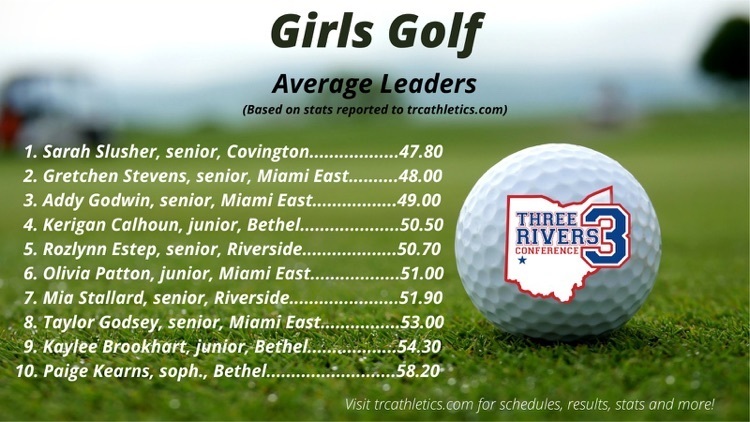 Attention community members with dirty cars! You've asked and we've listened, BPA is putting on another car wash on Friday, September 24 from 3:00 PM to 6:00 PM. All car washes are by donation and all proceeds go to Riverside's BPA Chapter. We hope to see you then!